Overview: Accessing and Using the FileShare™ Log
Your FileAssist account gives you the ability to share an almost endless number of files. That's a lot to keep up with! Luckily, we thought of that and provided a FileShare History log that neatly sorts all your active FileShare links. In addition, the log allows you to edit, view, generate, and check link history all from a single screen.
You may also be interested in more information on:
View and Manage Active FileShare™ Links
The FileShare log organizes all active FileShare links, and allows you to edit, view, generate, and check link history all from a single screen. To access the log:
1. From the main screen of the User Interface click the Share tab.
2. Click Fileshare Links under the Manage section.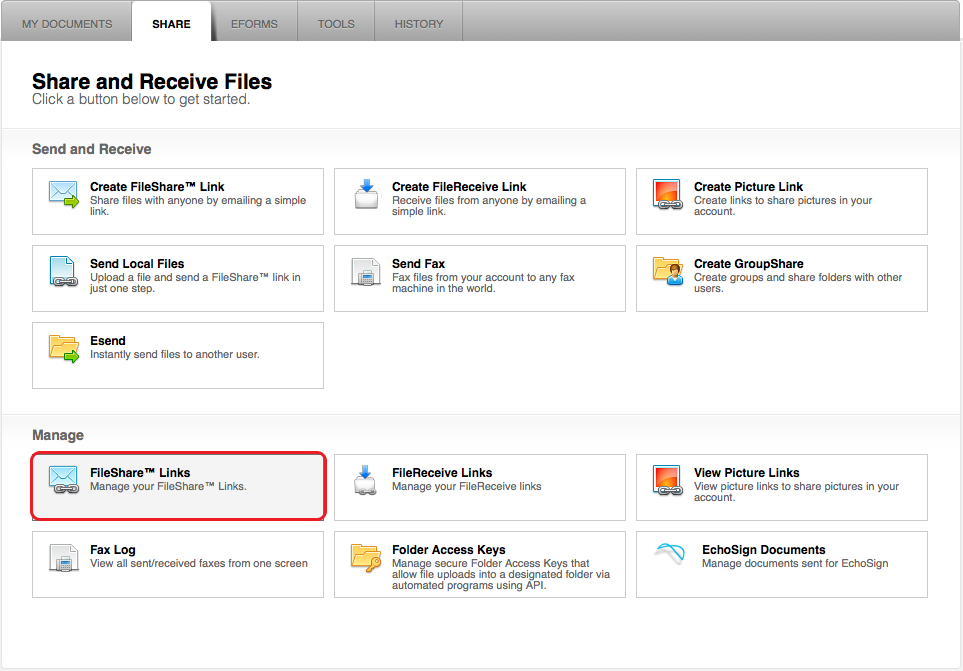 Toolbar and Field Descriptions in the Active FileShare Log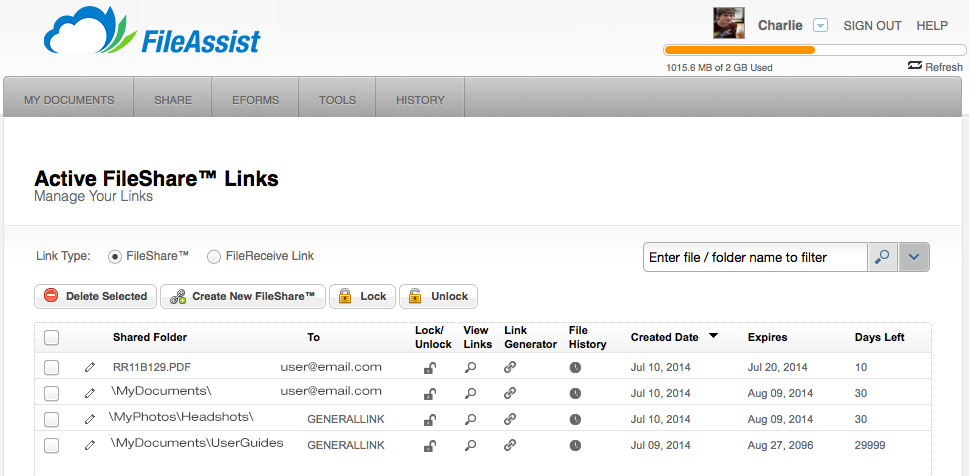 Toolbar
Delete Button- Deletes the files selected in the table.
Create New FileShare Button- Gives you the FileShare screen to create a new FileShare link.
Lock Button- Immediately locks the selected link and prevents access by link recipients.
Unlock Button- Immediately unlocks the selected link and allows access by link recipients.
Fields
Check Boxes- Clicking in a check box selects the FileShare link and all fields associated with it. The top check box acts as a "select all" feature and will select all FileShare links and their associated fields with just one click.
Link Type- Choose from FileShare links, FileReceive links, or filter your results by entering criteria in the Filter by File/Folder Name.Ex: field.Edit
Shared Folder- Provides the file path to the folder from which the file was shared.
To- Provides a description of link recipients.
View Links- Prompts a FileShare link screen and displays the associated recipient(s)/FileShare link(s)
Link Generator- Gives you the option to send the associated FileShare link to additional recipients without going through the FileShare link process again.
File History- Prompts the File History Log for the associated FileShare link.
Created Date- Sortable field that displays the date the link is created.
Expires- Sortable field that isplays the date the link is set to expire.