Step-by-Step Instructions: Restoring Data
We know the sinking feeling you get the instant you realize an important file or folder has been deleted. That's why FileAssist offers a way for you to retrieve deleted data and place it safely back into your account as many as 30 days later. How's that for peace of mind? Data Restore comes standard with every FileAssist account, and above all, is extremely easy to navigate. Below you'll find instructions on how to use Data Restore.
Let's Get Started:
1. Login to your FileAssist account.
2. Click the Tools tab.

3. Under the Services section, click on Data Restore.

4. Select a date to review files and folders backed up the morning of that day. (see below for details on backup scheduling)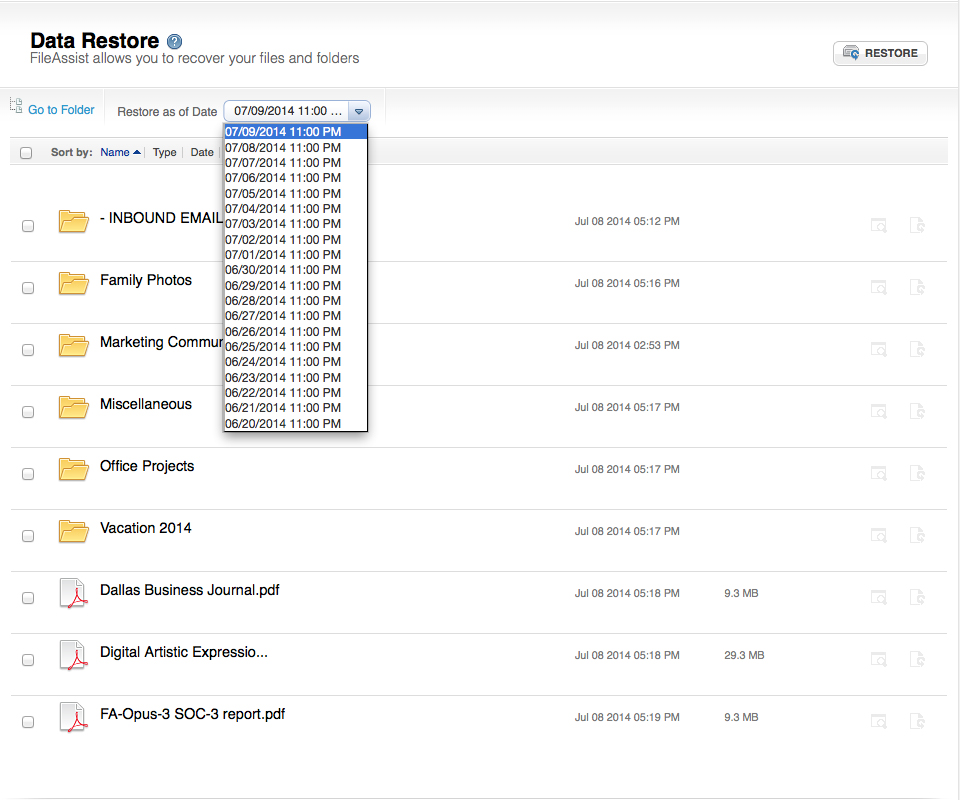 5. Select the files or folders that you wish to restore and then click the Restore button.
Note: You may choose a single file or folder, or multiple files and folders, to restore at any given time. Folders containing multiple versions of a file will display each version and allow you to choose the version you wish to restore. Depending upon the amount of information you have chosen to retrieve, this action may take a few moments to complete.

6. Click the Return to Main button to return to your folder tree.
Important Information About Data Restore
Data is backed up with a snapshot every morning at 11:00PM MST.
If you create files or folders after 5:00am, then delete it before 5:00am the next day, there is no method to recover those files or folders.
Backed up data is stored for 30 days. After 30 days, the data will be permanently deleted and not recoverable.